Title: The Raven Boys, book 1 in The Raven Cycle
Author: Maggie Stiefvater
Publisher: Scholastic
Genre: Young Adult, Fantasy, Paranormal
Links: GoodReads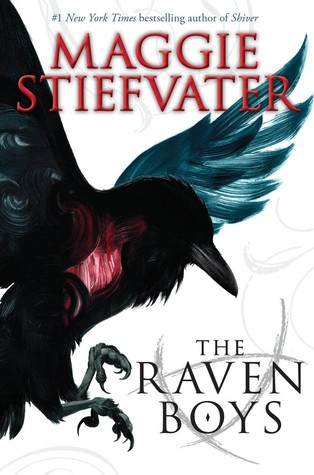 Blurb:
Every year, Blue Sargent stands next to her clairvoyant mother as the soon-to-be dead walk past. Blue never sees them–until this year, when a boy emerges from the dark and speaks to her.
For as long as she can remember, Blue has been warned that she will cause her true love to die. She doesn't believe in true love, and never thought this would be a problem. But as her life becomes caught up in the strange and sinister world of the Raven Boys, she's not so sure anymore.
Why I picked it up:
I'd seen this series around a bit, and randomly picked it up to start reading on the bus while I was in America.
My Thoughts:
I've read a few of Maggie's novels. I generally enjoy her writing style – in the past I've found it descriptive and musical, but The Raven Boys felt very whimsical.
When I first picked it up, I wasn't too sure what to expect. It took me a while to sink into the story and figure out who the characters were. Then it took me ever longer to figure out the whole "ley-line-magic-kings-of-old" thing. I'd say it took a good 70 pages or so to really sink into the world and figure out the boys and their unique personalities. Although that could be because prior to reading this I read three contemporary romances in a row by Samantha Young. So in comparison, this had a distinctly different vibe and writing style.
They filled the hallway to overflowing, somehow, the three of them, loud and male and so comfortable with one another that they allowed no one else to be comfortable with them. 
Overall I'm not too sure about this one. I appreciate it for what it was, but at the same time, I think it might have been a little too whimsical and dream-like for me. I mean, it had sentences like this:
But the imprecise nature of the fortunes stole some of their power… a realisation that even if you had discovered the future, it really didn't change how you lives in the present. 
My Verdict – 2 stars