Title: A Court of Thorns and Roses
Author: Sarah J Maas
Publisher: Bloomsbury
Genre: Young Adult, Fantasy, Romance, Fae
Links: GoodReads
Related Reviews: Throne of Glass (5 Stars) | Crown of Midnight (5 Stars) | Heir of Fire (4 Stars) | Queen of Shadows (5 Stars) | My Interview with Sarah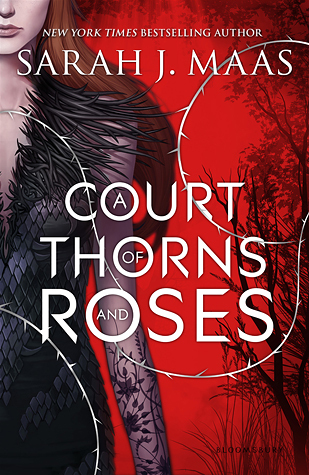 Blurb:
When nineteen-year-old huntress Feyre kills a wolf in the woods, a beast-like creature arrives to demand retribution for it. Dragged to a treacherous magical land she only knows about from legends, Feyre discovers that her captor is not an animal, but Tamlin—one of the lethal, immortal faeries who once ruled their world.
As she dwells on his estate, her feelings for Tamlin transform from icy hostility into a fiery passion that burns through every lie and warning she's been told about the beautiful, dangerous world of the Fae. But an ancient, wicked shadow grows over the faerie lands, and Feyre must find a way to stop it… or doom Tamlin—and his world—forever.
Why I picked it up:
I received this one from Bloomsbury in exchange for an honest review. I actually picked it up and started reading it a couple of times, before finally sitting down and committing to it 100%.
My Thoughts:
The first half of this story was a really difficult read for me, because I didn't connect with the characters. Because of that, I found the story to be slow, bland, and extremely repetitive with the whole "plotting to escape" thing. I couldn't understand why Feyre was even bothering to protect her family – they seemed like total arseholes to me, and because I didn't really like Feyre, I couldn't sympathise with what she was trying to do.
All in all, at the halfway mark, I was freaking out because I love the Throne of Glass series, and I wanted to love this too.
Luckily, the emotion kicked into gear in the second half and I found it to be a much more enjoyable read. I finally sunk into the story and I found myself liking Feyre a little more, and loving Rhysand. Sarah J Maas really is an excellent story teller – I love how she builds her characters up and then breaks them down – her character arcs are amazing.
All in all, I'll check out the second. I think I'd like this a little more the second time round because I'll understand more what it's all about.
My Verdict – 4 Stars