Title: Soundless
Author: Richelle Mead
Publisher: Penguin
Genre: Young Adult, Fantasy, Romance
Links: GoodReads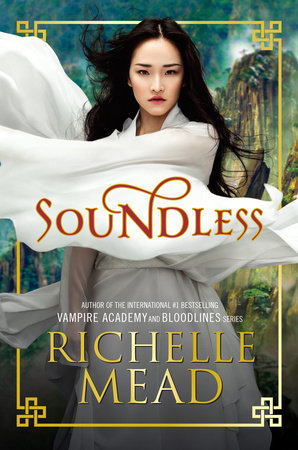 Blurb:
For as long as Fei can remember, there has been no sound in her village. Her people are at the mercy of a mysterious faraway kingdom, which delivers food in return for precious metals mined from the treacherous cliffs surrounding them.
When villagers begin to lose their sight, their rations shrink and many go hungry. Fei's home, the boy she loves, and her entire existence is plunged into crisis, under threat of darkness and starvation.
Then Fei is awoken in the night by a searing noise, and sound becomes her weapon . . .
Why I picked it up:
This book was sent to me from Penguin in exchange for an honest review. I'm a big fan of the Vampire Academy series, so I was intrigued to see what Richelle Mead could bring to the table with Soundless.
My Thoughts:
I read this in a spree of YA fantasy, two of which I rated above 4 stars, so this had some mighty competition to live up to.
In saying that, I went into this novel with low expectations because there are some pretty negative reviews floating around online. And unfortunately… after finishing this, I can understand why.
I feel like the primary reason this book has so many negative reviews, is because it's so underdone. For a novel that has such a rich premise, it really falls flat a lot of the time and travels down roads that don't do the premise justice. I just wanted more from this. More, more, more!
Also, whilst I have always liked Richelle Mead's writing style (direct, to the point, musical, and flows well), I feel like her writing lacked dynamics in Soundless… maybe because the characters communicated in sign language, so it felt flatter than a novel that utilises regular dialogue and dialogue tags.
But seriously, this novel has an amazing and original premise. And the beginning definitely sucked me in… it just didn't quite deliver as a whole novel.
My Verdict – 2 stars