Title: This is Where it Ends
Author: Marieke Nijkamp
Genre: Young Adult, Contemporary
Links: GoodReads | Marieke's Website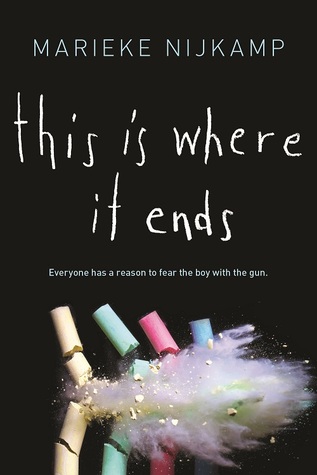 Blurb:
10:00 a.m.
The principal of Opportunity, Alabama's high school finishes her speech, welcoming the entire student body to a new semester and encouraging them to excel and achieve.
10:02 a.m.
The students get up to leave the auditorium for their next class.
10:03
The auditorium doors won't open.
10:05
Someone starts shooting.
Told over the span of 54 harrowing minutes from four different perspectives, terror reigns as one student's calculated revenge turns into the ultimate game of survival.
1. Tell us a bit about THIS IS WHERE IT ENDS…
THIS IS WHERE IT ENDS, the story of a school shooting, takes place over the course of fifty-four minutes, and follows four teens, who all have their own reason to fear the boy with the gun.
2. How long have you been writing?
Pretty much as long as I can remember. But with the purpose to be published? Since I was about 10/11.
3. What inspires you?
Life. The world. People.
4. What did you find most useful in learning to write a novel?
Reading. Reading lots of books. Reading different books. Reading to find out what works for you and why. Reading to find out what doesn't work for you and why. Reading to refill the creative well. Reading. 😀
5. What makes your book stand our from the crowd?
Honestly, I think that's up to readers, if it does and if so, how. I only wrote it. The book is the readers' now.
6. How do you find or make time to write?
Oh, I wish I could just find it! I carve it out, carefully, during nights and weekends and downtime and spare moments.
7. What do you like to read in your free time?
Everything, honestly. I mainly read YA, across the genres. But I also love to read MG. And I alove love to read SFF. And I also love historical non-fiction. And philosophical treatises. And myths and legends. But right now, mainly YA and lots of my fellow 2016 debuts!
8. Do you have any advice for aspiring authors?
Persevere, keep learning, keep telling stories.