This month, Hachette Australia will be publishing the second steamy installment in New York Times and USA Today bestselling author Pepper Winters' Pure Corruption MC Series, Sin & Suffer!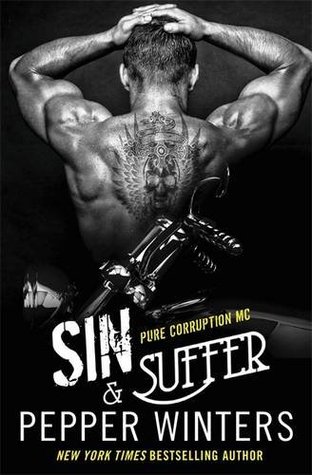 To celebrate the release, the lovely people at Hachette gave me the opportunity to interview Pepper.
After chasing her dreams to become a full-time writer, Pepper has earned recognition with awards for best Dark Romance, best BDSM Series, and best Hero. She's an #1 iBooks bestseller, along with #1 in Erotic Romance, Romantic Suspense, Contemporary, and Erotica Thriller. She's also honoured to wear the IndieReader Badge for being a Top 10 Indie Bestseller.
1. Tell us a bit about the Pure Corruption MC series…
It's a tale of true love that transcends age, time, or what's deemed as right and wrong. It deals with death, deceit, and a whole lot of secrets.
2. How long have you been writing?
All my life on and off but full-time 3 years.
3. What inspires you?
Anything and everything. I get random ideas at very odd times. Driving seems to be a good one for me, or in the shower. It's great when the characters talk to me and really let me know what they want to say.
4. What did you find most useful in learning to write a novel?
How to produce a well-rounded book with emotion, description, good writing and pace. I hope I achieve a few of those but as a writer, I'm always improving my craft. I did a lot of research online and read a lot of books to better myself. I'm self-taught as I flunked English at school so anything is achievable if you work hard. ☺
5. What makes your book stand out from the crowd?
I try my best to deliver a book that makes you FEEL. That's what I hope readers take from my work.
6. How do you find or make time to write?
I write full time so I'm very lucky to be able to dedicate work hours to my craft.
7. What do you like to read in your free time?
Anything and everything ☺ I'm a mix of all genres and authors. As long as the book tells a worthwhile story, I really don't mind if it's fantasy, romantic comedy, or dark and brutal. Each book is great in its own merits.
8. Do you have any advice for aspiring authors?
Yes, write and write and keep writing. I wrote 6 books before I was happy that I was ready to publish. Those first manuscripts sometimes are meant as the learning curve rather than publication. Also, follow other successful authors and see what they do. Read everything you can and never take marketing for an unimportant part of your craft. You have to be business savvy as well as creative.
Thanks so much for having me!