Title: The Deal, The Mistake, The Score (The Off Campus Series)
Author: Elle Kennedy
Publisher: Various
Genre: New Adult, Romance, Contemporary, Sports: Ice Hockey, College
Links: GoodReads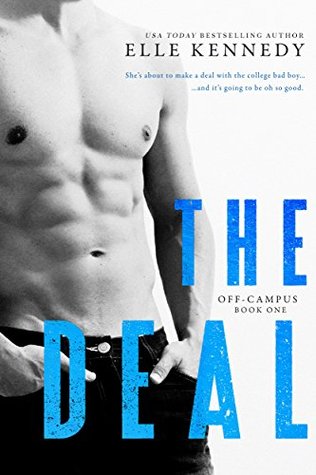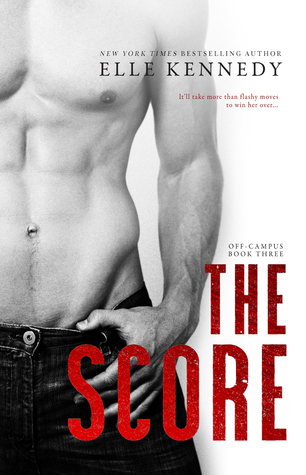 Blurb (The Deal):
She's about to make a deal with the college bad boy…
Hannah Wells has finally found someone who turns her on. But while she might be confident in every other area of her life, she's carting around a full set of baggage when it comes to sex and seduction. If she wants to get her crush's attention, she'll have to step out of her comfort zone and make him take notice…even if it means tutoring the annoying, childish, cocky captain of the hockey team in exchange for a pretend date.
…and it's going to be oh so good
My Thoughts:
This book started with a bang. The author immediately set the scene and let the reader know exactly what to expect.
But wow, this is not a unique premise – girl dates guy to make another guy jealous, and then ends up falling for the original guy. It has been done time and time again. It made me hesitant to pick this book up in the first place, but it has so many great reviews!
Garett climbs on the bed and lies down, resting his head on a mountain of pillows. I've never met anyone who sleeps with so many pillows. Maybe he needs them to cradle his massive ego.
This book definitely had some *hand-flapping* moments. Sort of like this:
Garrett appears in the doorway wearing dark blue jeans and a black sweater, and something terrible happens. My heart turns into a dolphin and does a stupid little flip of excitement.
Excitement, for fucks sake.
I hit halfway and have to admit, I never wanted this to end. This is a great read if you are in the mood for a NA romance!
My Verdict – 5 stars
Blurb (The Mistake):
College junior John Logan can get any girl he wants. For this hockey star, life is a parade of parties and hook-ups, but behind his killer grins and easygoing charm, he hides growing despair about the dead-end road he'll be forced to walk after graduation. A sexy encounter with freshman Grace Ivers is just the distraction he needs, but when a thoughtless mistake pushes her away, Logan plans to spend his final year proving to her that he's worth a second chance.
My Thoughts:
I was super excited to read this one after my high finishing The Deal. I jumped straight into it the second I could.
"And don't get me started on your manwhoring," Tucker grumbles. "You've always been a player, but due, you hooked up with five chicks this week."
"So?"
"So it's Thursday. Five chicks in four days. Do the fucking math, John."
Oh shit. He first-named me. Tucker only calls me John when I've really pissed him off.
I immediately liked Grace, and I like her and Logan together. Loved this one as much as The Deal!
My Verdict – 5 stars
Blurb (The Score):
Allie Hayes is in crisis mode. With graduation looming, she still doesn't have the first clue about what she's going to do after college. To make matters worse, she's nursing a broken heart thanks to the end of her longtime relationship. Wild rebound sex is definitely not the solution to her problems, but gorgeous hockey star Dean Di-Laurentis is impossible to resist. Just once, though, because even if her future is uncertain, it sure as heck won't include the king of one-night stands.
My Thoughts:
After devouring The Deal and The Mistake, I moved quickly onto The Score, which is on the top of all the GoodReads lists at the moment, and how I discovered the series.
There seemed to be more sex and less plot in this one. Not saying that that's a bad thing, but at one stage I did wish the plot had a bit more guts. But really, what else can you really expect from a Dean novel if not lots of sex?
All in all, I have an awesome 3-day reading spree devouring this series! I can't wait to add these to my library in paperback form!
My Verdict – 4 stars