Title: Hopeless, book 1 in the Hopeless series
Author: Colleen Hoover
Publisher: Atria Books
Genre: New Adult, Romance, Contemporary
Links: GoodReads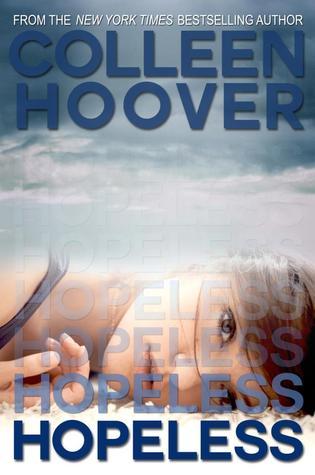 Blurb:
Sometimes discovering the truth can leave you more hopeless than believing the lies…
That's what seventeen-year-old Sky realizes after she meets Dean Holder. A guy with a reputation that rivals her own and an uncanny ability to invoke feelings in her she's never had before. He terrifies her and captivates her all in the span of just one encounter, and something about the way he makes her feel sparks buried memories from a past that she wishes could just stay buried.
Sky struggles to keep him at a distance knowing he's nothing but trouble, but Holder insists on learning everything about her. After finally caving to his unwavering pursuit, Sky soon finds that Holder isn't at all who he's been claiming to be. When the secrets he's been keeping are finally revealed, every single facet of Sky's life will change forever.
Why I picked it up:
I started reading this one on a whim after seeing it on a few GoodReads listopia lists.
My Thoughts:
Characters are absolutely everything to me in a novel, and liking them can literally make or break a story for me… Unfortunately, I didn't like Sky or Holder.
Sky is quite gritty. She's introduced as a down to earth, numb, broken character. Which I found intriguing. But I also found her incredibly hypocritical – for someone who values proper conduct so much, she had no drama with her bad reputation.
I definitely didn't like Holder. He was too overbearing for me. He was always touching Sky's face and getting into her bubble. I was like oh my god, back off! I would hate a stranger to be touching me like that. He was possessive, quick to anger, over the top and generally unbelievable as a teen male.
So we have two characters I wasn't sure that I liked – add that to the miscommunication between them and I was so frustrated! Just talk to each other!
Overall, this book is pretty melodramatic. The storyline doesn't extend to anything outside a handful of characters and their day to day emotional lives. I would have liked some sub plots to make the world richer – perhaps then Sky and Holder wouldn't have seemed so dysfunctionally codependent. I hope young girls aren't idolising this sort of relationship because it isn't healthy!
On a side note, I did appreciate and themes and the subject matter. But this wasn't for me.
My Verdict – 2 stars