Title: Wicked Sexy Liar, book 4 in the Wild Seasons series
Author: Christina Lauren
Publisher: Simon Schuster
Genre: New Adult, Contemporary, Romance
Links: GoodReads
Related Reviews: Sweet Filthy Boy (3 stars) | Dirty Rowdy Thing (4 stars)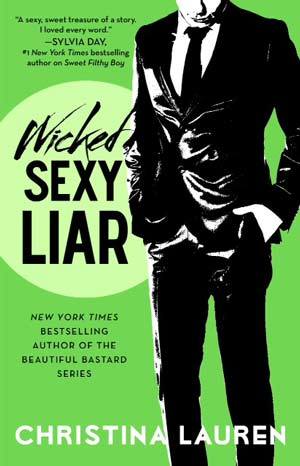 Blurb:
London Hughes is very content to surf daily, tend bar, hang out with her group of friends, and slowly orient herself in the years after college. Everything's going great and according to the non-plan.
But when a wave knocks her for a loop one morning, then Luke Sutter's flirtatious smile knocks her for another that evening, she veers slightly off course…and into his path. Sure, he's a total player, but the Why not—it's only one night is a persistent voice in her ear.
Why I picked it up:
I have read and liked the rest of the Wild Seasons series.
My Thoughts:
I've quite enjoyed the Wild Seasons series so far. It's potentially a little heavy on the sex scenes, but I was still excited to read the latest instalment.
I loved the first sentence! I also loved that for once, it was the female who was reluctant to enter into a relationship instead of the guy. That was so nice to see.
All in all, I don't have much to say about this. It was a sweet, easy, cute New Adult romance. It wasn't the best in the genre, and it certainly wasn't the worst. I would have liked a little more drama and dynamics, because it felt a little flat in places with no real ups and downs, but I enjoyed it.
My Verdict – 3 stars