Title: Losing It
Author: Cora Carmack
Publisher: HarperCollins
Genre: New Adult, Romance, Contemporary
Links: GoodReads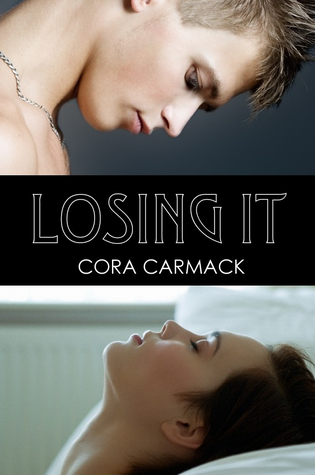 Blurb:
Sick of being the only virgin among her friends, Bliss Edwards decides the best way to deal with the problem is to lose it as quickly and simply as possible – a one-night stand. But her plan turns out to be anything but simple when she freaks out and leaves a gorgeous guy alone and naked in her bed with an excuse that no one with half-a-brain would ever believe. And as if that weren't embarrassing enough, when she arrives for her first class of her last college semester, she recognizes her new theatre professor. She'd left him naked in her bed about 8 hours earlier.
My Thoughts:
This book utilises an extremely overdone premise, but considering it was published in 2012, maybe everyone else has been copying it!
I can't say I'm all that interested in novels where the characters are musicians or actors. I don't find the world of celebrity particularly interesting, so this one was a hard one for me.
I did adore the romance. I definitely believed the chemistry between Bliss and Garrick. All in all, this was a cute, fluffy story.
My Verdict – 3 Stars