Title: King & Tyrant
Author: T.M. Frazier
Publisher: CreateSpace
Genre: New Adult, Dark Romance
Links: GoodReads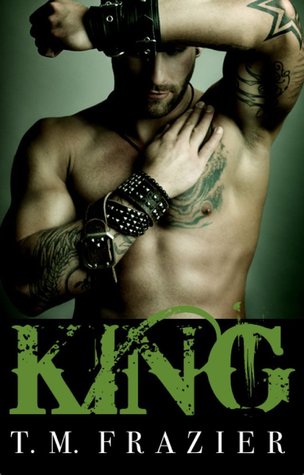 Blurb:
Homeless. Hungry. Desperate.
Doe has no memories of who she is or where she comes from.
A notorious career criminal just released from prison, King is someone you don't want to cross unless you're prepared to pay him back in blood, sweat, pu$$y or a combination of all three.
King's future hangs in the balance. Doe's is written in her past. When they come crashing together, they will have to learn that sometimes in order to hold on, you have to first let go.
My Thoughts – KING:
I started this book on a whim… I was already in the middle of Prince's Gambit by CS Pacat, but started this one in PDF while I was waiting to get home to Prince's Gambit.
I liked the writing style. It flowed simply. The actual writing is pretty gritty and extremely vulgar with plenty of profanities. In fact, the entire novel is dark with characters that are criminals, prostitutes, and all round underground personalities. But there is nothing glamorous about it. It's dark.
I am desperate, and desperate people don't have the luxury of options.
There was places where the characters emotions felt a little out of place. For example Doe – I feel like her transition from terrier wallflower to sassy confident was a tad too abrupt.
"Pup, what I learned from being in prison is that we're all just a bunch of ants."
"How do you mean?"
"I mean we're all scurrying around, doing insignificant bullshit. We get this one life. ONE. And we spend too much time doing shit we don't want to do."
But I enjoyed this. It isn't often that I read a dark romance, but this one was interesting. I'll check out the second in the series.
My Verdict – 3 stars
My Thoughts – TYRANT
It isn't very often that the second book in a series is better than the first but man, this series managed it!
I actually wasn't going to read this one. I generally don't like romance series where one novel follows the same couple into another novel. I prefer romance series where each book features new characters. But King ended with enough intrigue to keep me reading. And I'm glad I did.
I really liked reading about Doe discovering her old life. It was well written and kept me glued to the screen. Loved the plot twists too. And I really loved how all the loose threads from King were tied together.
All in all, a great read and conclusion to King and Doe's love story.
My Verdict – 4 stars