Thanks for the Email is a brand new facet of my blog. It started because I get a lot of emails from authors asking me to review their novels, and whilst I don't always get the time, I want to share these novels with my blog visitors in some way. So every now and then I'm going to post a little wrap up of some of the novels that have drifted into my inbox recently.
So without future ado, please show your support for the following authors!
It's Never Enough by Susan Soares


Independent Publisher | New Adult, Contemporary
Amazon | GoodReads | YouTube
Thank you for taking the time to check out my books! I've wanted to be an author since I was seven years old. It's all I've ever dreamed of. Thanks to some amazing support, a great editor, a thoughtful agent, and lots of time spent staring at the computer I've gotten to live out my dream! I love YA and NA books! I hope you'll take a moment to check out what I've done! Oh, and follow me on social media! Thank you!
The Summer that Melted Everything by Tiffany McDaniel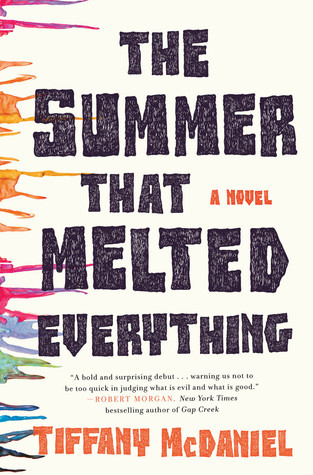 St. Martin's, Macmillan | Literary Fiction
Author Website
Fielding Bliss has never forgotten the summer of 1984: the year a heat wave scorched Breathed, Ohio. The year he became friends with the devil.
Sal seems to appear out of nowhere – a bruised and tattered thirteen-year-old boy claiming to be the devil himself answering an invitation. Fielding Bliss, the son of a local prosecutor, brings him home where he's welcomed into the Bliss family, assuming he's a runaway from a nearby farm town.
When word spreads that the devil has come to Breathed, not everyone is happy to welcome this self-proclaimed fallen angel.
Anomaly by Caitlin Lynagh


Outlet Publishing | Young Adult, Paranormal Fantasy
Author Website | Amazon | FaceBook | Twitter
What if everything and everyone was connected? From the smallest emotions to the biggest decisions? What if one person's choices could change the world? Alice Lynam has been dead for two years. The afterlife is complicated, time behaves differently and the deceased souls have important information concerning humanity's future. Certain individuals are set to change the world for the better and Alice's childhood sweetheart, Kyle, happens to be one of them. But Kyle's grief has set him on a path that can only bring frustration and unhappiness. Alice needs to find a way to get through to Kyle to put him back on the right path. And if she gets it wrong, all could be lost.